Operation Theatre And Post-Operative Wards:
Two operation theatres (OTs) including an OT for emergency Caesarean sections.
Procedures carried out include Gynaecological surgeries such as Total Hysterectomy, Vaginal Hysterectomy, D&C, Biopsies
On an average of 60 to 70 caesareans per month.
The two post-operative step-down wards are equipped with piped oxygen/ air, suction machine, 5 Para monitors, pulse oxymeter, emergency medical trolley etc.
A post-partum ward caters to high risk pregnancy cases.
Support of a 4-bedded Level I Neo-natal Intensive Care Unit (NICU).
New mothers are counseled, individually and in groups, before they are discharged, with the help of posters & leaflets. The topics covered are health care, breast feeding, nutritional advice and general cleanliness.
Labour Wards And Labour Rooms:
The facility comprises a large, cool and spacious 20 bedded Labour Ward and three well equipped Labour Rooms, including a labour room for Eclampsia cases.
The labour rooms are equipped with labour tables, foetal Doppler's, CTG Monitor , piped oxygen/ air facility, suction apparatus, an ultra sound machine dedicated to Obstetrics and gynaecology, focus & overhead lamps for procedures, baby warmer, baby weighing machine, resuscitation trolleys, delivery trays etc.
Counselling:
Counselling and health education classes for expectant mothers are provided twice a week. Unique to the hospital is the participation of husbands, in-laws and parents to better understand the special needs of pregnant women. Such sessions also address untenable superstitious practices, ideas on consanguinity, prejudice regarding the girl child etc.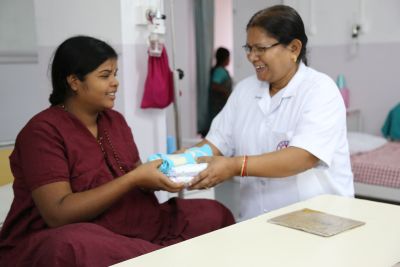 Beyond medical care:
As a token of love, a gift package consisting of the essential items for a new born is presented to every baby born in this hospital.